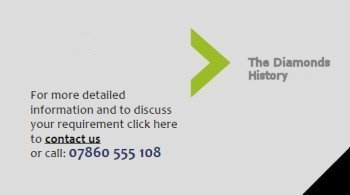 IF YOU DON'T REMEMBER
THE DIAMONDS -
YOU JUST
WEREN'T THERE!
The Diamonds History - Page 2

TV Appearances

·Home Grown
·Big Beat 62
·Thank your Lucky Stars
·NME Poll winners concert
Venues Played
·Wembley
·The Royal Albert Hall
·Top Ten Club Hamburg
·The Cavern Club Liverpool
·The Liverpool Empire
·The Dome Theatre Brighton
·Rex Ballroom Bognor Regis


·and most concert halls throughout Britain
Stars Supported
The Diamonds have over the years appeared with and
backed many big sixties stars such as
·The Beatles
·The Rolling Stones
·Cliff Richard and The Shadows
·The Searchers
·Gene Vincent


·Status Quo
·Cliff Bennet and the Rebel Rousers

Steve Gordon is a good friend of Big Jim Sullivan and
they have both in their time jammed and played with
Ray Flacke. Steve has jammed with many of today's
greats such as Richie Blackmore and Jimmy Hendrix.